Word of the Day
December 17, 2015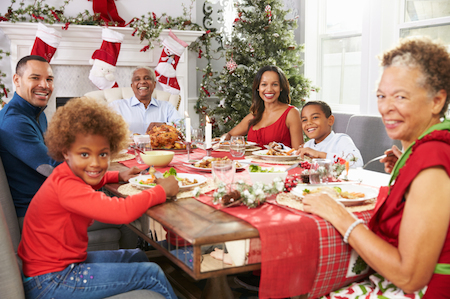 Eat, drink, and be merry!
I'm sure you've been hearing and reading "Merry Christmas" a lot these days, but do you know what merry actually means? Merry is an adjective that describes someone or something happy, cheerful, and full of joy, and it is also used to describe festive occasions, like Christmas. In the UK, merry is also a light-hearted way of saying that someone is slightly drunk.
Example sentences
I love spending time with Sabrina, because she's always laughing and

merry

.
On behalf of everyone at our company, we would like to wish you a very

merry

Christmas.
I noticed Oliver was a bit

merry

last night; I hope he hasn't got a headache this morning!
Words often used with merry
make merry: to have a good time, often involving food and alcoholic drink: "At Christmas, most people get together with their family and friends to make merry."
the more the merrier: used to say someone is welcome to join a group, excursion, etc.: "Is it OK if I come to the meeting next week?" "Sure, why not? The more the merrier!"
Multi-word forms
merry-go-round
: a carousel or, figuratively, a whirl of events: "My wedding weekend was a merry-go-round of events because there was so much to do."
Did you know?
You may have heard the expression "Eat, drink, and be merry." The full version of this expression is "Eat, drink, and be merry, for tomorrow we die" and, originally, it was a conflation of two biblical quotations. Nowadays, this expression is often used light-heartedly to encourage people sitting down to a meal to start eating and have a good time.
Origin
Merry dates back to before 900 and comes from the Middle English words meri(e), myrie, murie and Old English wod myr(i)ge, mer(i)ge, meaning 'pleasant' or 'delightful.'
Word of the Day is released Monday through Friday.
Contact Us | Unsubscribe
Copyright © 2015 WordReference.com