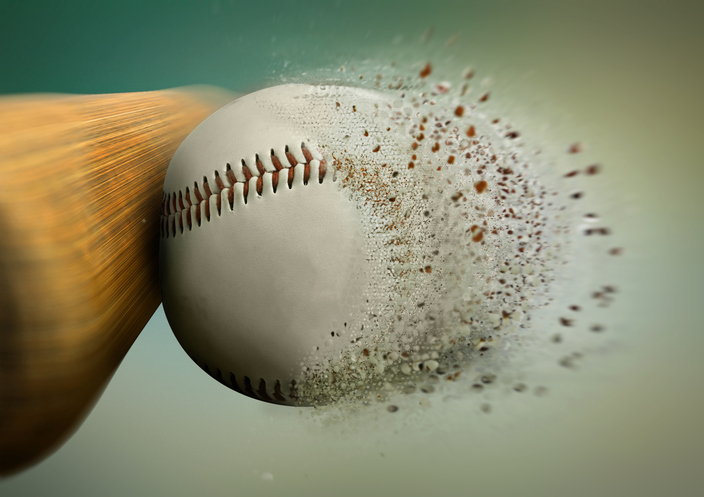 To whop means 'to strike or beat with force' and, figuratively, in contests or games, it means 'to defeat soundly.' Followed by out, it also means 'to pull out violently,' as well as 'to drop or fall heavily.' As a noun, a whop is a powerful blow or strike, a bump or heavy fall, and also the sound made by either a blow or a fall.
Example sentences
The player

whopped

the ball.
The away team

whopped

the home team.
The professor reached into his bag and

whopped

out a book.
Amy dropped the parcel she was carrying and it

whopped

to the floor.
One of the men in the fight landed a

whop

on the other's chin.
I heard the

whop

as Ben dropped onto the couch.
In pop culture
Whop is also sometimes a filler sound in backing lyrics. Listen to David Bowie singing "Golden Years" here:
Listen out for the chorus "Golden years, gold whop, whop, whop."
Did you know?
The related noun whopper is something unusually big. For example, a fisherman might say, "I almost caught a whopper today, but it got away!" A whopper is also a very big lie. So you might say, "You can't believe anything Finn says; it's just one whopper after another."
Origin
Whop dates back to the mid-14th century. The Middle English verb whopen or wopen (meaning to 'beat or strike') originated in the sound a strike makes, and probably emerged as a variant of wap (a noun meaning 'a hit or blow'). Just like wap soon expanded to be used as a verb, whop started being used as a verb, and eventually became more common, as wap fell out of use. By the late 15th century, whop was commonly being used in the figurative sense, 'to overcome.' The noun whopper, which originally meant 'a large and audacious lie,' emerged in the mid-18th century from this figurative sense, and its meaning expanded to anything large. Likewise, the adjective whopping, from whop, describes anything particularly big.
Word of the Day is released Monday through Friday.